Rexy Vachereau graduated summa cum laude in 2019 with a B.S. in Inclusive Early Childhood Special Education, with a minor in Political Science and in 2020 took a master's degree in Literacy Education (Birth to Grade 12).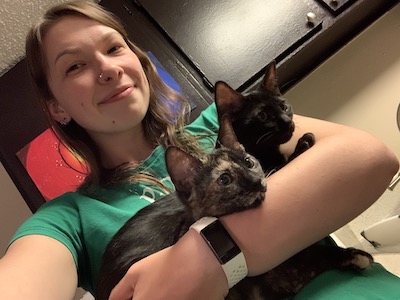 As an undergraduate, Vachereau was a peer mentor for InclusiveU program; a Direct Support Professional for the Kelberman Center, a Utica, NY-based autism services provider that collaborates with the School of Education; and a Treasurer for the Alpha Delta Iota chapter of Kappa Delta Pi, the international honor society in education.
Describe your current roles and its responsibilities.
I am a pre-school teacher at PRE-K 4 SA, a pre-kindergarten program with four locations across San Antonio, TX.
How did the School of Education prepare you for this role?
While completing my bachelor's and master's degrees, I was able to work with a wide variety of students from infancy through college aged. The hands-on classroom experiences helped prepare me to have my own classroom.
What current trends do you see in your specialty and how are you addressing them?
It was so crazy to start teaching during the coronavirus pandemic. It has been interesting to see how time spent at home and in isolation has affected even the youngest learners. The need for social and emotional support and teaching is super important in the classes I have taught so far.
What academic program stood out for you most as a student at SOE?
Being a mentor with InclusiveU was the greatest thing I was part of in college. As a mentor, I was able to work with incredible people, both staff and students; meet my husband, my fellow peer trainer; and form friendships that will last a lifetime.
Make a pitch for SOE—why should a prospective student choose the School of Education?
A prospective student should choose SOE for the incredible amount of hands-on experiences you receive.