Advisory Board member Julie Padilla '11, G'12 earned Bachelor of Arts degrees in History and Social Studies Education and then a master's in Literacy Education from Syracuse University. She completed a second master's in School Building and School District Leadership from Touro College. In 2020, she completed her doctoral studies at Northeastern University in Educational Leadership with a concentration in Curriculum, Teaching, Learning, and Leadership.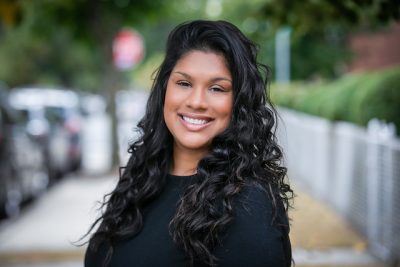 A first generation college student and whose parents are native to Guyana, Padilla was a Social Studies and Literacy teacher for at-risk youth ages 14 to 21 at the beginning of her career. She was awarded SmileDirectClub and the New York Yankees' Community Hero Spotlight in 2019. She then became Assistant Principal of a Pre-K through 8th grade school in New York City before joining Carnegie Learning.
Describe your current roles and its responsibilities.
I am currently Manager of Customer Experience at a comprehensive, dynamic, and progressive learning education technology company. In this role, I am the biggest advocate for the customer internally, and I identify friction points in the experience, recommend improvements to both process and technology, and bring positive change to life through implementation and execution.
I work to maintain strong relationships with other departments, with particular focus on product, sales, professional learning, and customer service to ensure smooth customer experiences and constantly think about approaches to ingrain customer experience deeply within the rest of the business.
How did the School of Education prepare you for this role?
SOE helped prepare me for this role and the responsibilities along with it by helping ignite my sense of passion and commitment for creating positive learning environments that mitigate systemic inequities within education.
Through my K-12 experience, I was able to gain insight into how best to support diverse socioeconomic student populations and harness that same drive to maximize stakeholder engagement, including school leaders, teachers, and support staff. I use these tools to ensure everything my organization is doing works to better education and the experience our customers, which are school districts across the US and Canada.
What current trends do you see in your specialty and how are you addressing them?
Education is evolving and changing every single day. I see the way we are embedding technology into education, into the coursework, into the classroom—but not just for the sake of doing so and not just because we had to pivot during the coronavirus pandemic—rather with the intention of truly making an impact on students and their knowledge.
The power of being able to equip students with new skills and tools, all while gaining further information to support them more than we ever could before, is amazing.
Which professors stood out for you most as a student at SOE?
Professors Jeff Mangram and Judy Sheldon. Both Jeff and Judy were mentors and a light of positive energy throughout my time at Syracuse and even now. I know I always can reach out to them, and I appreciate that so much because they went above and beyond!
Make a pitch for SOE—why should a prospective student choose the School of Education?
The experience and knowledge that SOE provides is one of a kind! You truly feel prepared for all that is out there when you graduate, and that value is incredibly rare.