Alan Foley, associate professor of Instructional Design, Development and Evaluation at Syracuse University's School of Education, has been selected as a fellow at the Burton Blatt Institute (BBI) at Syracuse University. BBI Fellow appointments provide select and accomplished faculty the opportunity to collaborate with BBI on innovative projects, related to their disciplines, with impact for people with disabilities.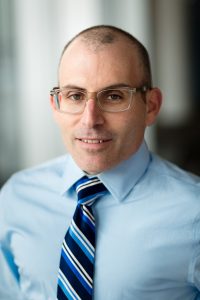 Foley will work with Peter Blanck, BBI chairman and University Professor, and colleagues at the Setnor School of Music and the School of Information Studies on a project that focuses on providing innovative, inclusive, and accessible informal learning opportunities to K-12 students through a focus on the science and technology of sounds and music recording. "This partnership with Alan Foley is an exciting cross-disciplinary collaboration, building on BBI's interdisciplinary approach at SU," says Blanck.
Foley's expertise includes assistive and adaptive technologies, technology development, and web accessibility/usability. His current research is in the development of mobile and cross-platform learning environments that ensure access for all learners. In addition to his scholarly work, Foley has co-authored a book on dynamic website development, and contributed chapters on web accessibility for technical books. He has authored numerous white papers and technical reports on providing access to technology for people with disabilities and other learning technology-related topics. Foley has been actively involved in efforts to make technology accessible to people with disabilities since the late 1990s
"I am excited about the opportunity to work with Dr. Blanck and BBI on multidisciplinary research projects which will improve both learning technologies and access to education," says Foley.