Continuing his pioneering work adapting clinical simulations (SIMS) across a spectrum of pre-professional and professional contexts, Professor Benjamin Dotger is collaborating with Emily Goldstein Nolan, Professor of Practice in the College of Visual and Performing Arts Department of Creative Arts Therapy.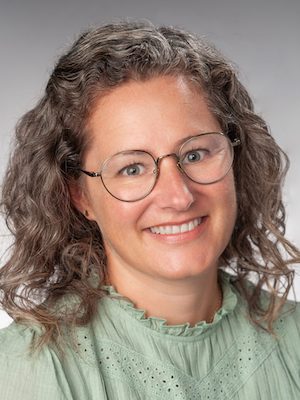 Together, Dotger and Nolan are facilitating two simulations for art therapy students in spring 2023. The first simulation took place on February 14 and a follow-up session is scheduled for April 4. "The clinical simulations will provide art therapy students with an opportunity to practice with a standardized client, played by an actor," says Dotger.
The art therapy simulations are part of an initiative by the Syracuse University School of Education's Center for Experiential Pedagogy and Practice (CEPP)—directed by Dotger—to invite new groups from across campus to experience simulations and learn how these face-to-face interactions with standardized individuals center on meaningful, real-world problems and emphasize skills that transfer from learning to practice.
To this end, Dotger has invited faculty and staff to observe educational simulations for pre-service teachers throughout the spring semester.
Supportive Group
Nolan first learned about CEPP through similar outreach efforts. "When I first began at Syracuse University, I learned about clinical simulations through the Center for Online and Digital Learning in the College of Professional Studies," she says. She later attended an October 2021 SIMS retreat in Bird Library, where Dotger shared experiences, readings, and data, as well as plans for future simulations.
"It was a great, supportive group to be around," says Nolan of the retreat. "I'm just grateful to know there are others solving the same challenges and doing similar work with experiential learning."
Once CEPP formally opened in March 2022, Dotger's and Nolan's collaboration intensified. "We began to have more conversations about supporting my work," says Nolan. "I shared how difficult it can be to hire and train actors to be standardized patients. Ben said that he would help do this and that we could write simulation vignettes together." Dotger assisted Nolan with the logistics of her fall 2022 art therapy simulations, and the two agreed to strengthen their collaboration for spring 2023.
"I'm just grateful to know there are others solving the same challenges and doing similar work with experiential learning."
—Professor Emily Nolan
Nolan first used trained actors to interact with her students at her previous post, with Mount Mary University in Milwaukee, WI. There, she taught a class called Helping Relationships but found its experiential learning methods problematic. Students were being asked to practice therapy on friends and family, but without the necessary skills to follow up if a simulated session uncovered actual issues. "I wasn't comfortable with this situation, and then one student came to me and said that a friend had to go to hospital after a practice session."
Building Rapport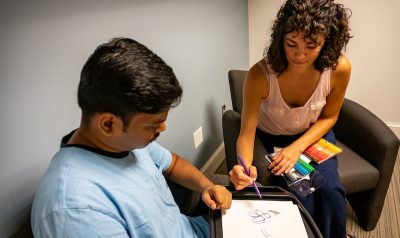 Dotger innovated clinical simulations by adapting the practice from the medical profession, which has trained physicians and other medical personnel for years using standardized, simulated patients. In parallel, Nolan first took notice of this training method thanks to her husband, who was performing simulations while in medical school. "So I went to the medical school to see how it is done. That's when I started to use paid actors with my students."
Adds Nolan, "We send students into the community for internships, and we'd love to see those sessions, but with confidentiality that's also problematic. It's a lot easier to view a student's progress in a simulated environment."
In spring 2023, art therapy students will simulate two sessions with the same client/actor. "This two-step method has been used with counselor education simulations in the School of Education," observes Dotger. "In the first simulation, the student therapist and client/actor can build rapport, and in the second, they can move on to business."
During the art therapy SIMS, an actor will play a patient based on an actual case study from Nolan's practice. "The client is very depressed and has tried numerous other treatments," she explains. "They have been referred to an art therapist by their psychiatrist. The student knows about the patient's background and family history, as well as a history of sexual abuse. But that detail is a red herring that students must navigate."
Areas of Growth
Aside from the actual simulation, critical elements of this experiential training method include observation, feedback, and reflection, which are built into the two-step art therapy SIMS. "In the first session, we will be looking at how the therapist creates a positive relationship with the client. We are looking at a hierarchy of 'micro skills' and how those are used to build rapport," says Nolan. Students will be debriefed after the sessions "to look at their thought processes and learning opportunities."
Further data will be gathered from the client/actor who will rate each student on an empathy scale. In addition, students will view video of their sessions, assess themselves using a skills rubric, and then write a reflection paper.
"Students also learn how to write a SOAP (for subjective, objective, assessment, and plan), a standard progress note that helps clinicians document a session," adds Nolan. "After the second session, I view the video in a more evaluative way, looking for how micro skills are being deployed and for areas of growth."
For Dotger, expanding SIMS to art therapy is further proof of the adaptability of simulated training and assessment. "There are similar forms of practice and rehearsal across all SIMS," he says, "but they are flexible enough to be able to accommodate any number of professional learning environments and practice objectives."
Already adapted to counselor education, educational leadership, military veterans' transition to secondary education, physiology (for students to practice human subject data collection), and now art therapy, Dotger says more SIMS are in the pipeline—in financial management and accounting, human sciences, post-secondary inclusive education, and exercise science.
"It's so cool that simulations can be used in such different ways and that we have such a resource on campus—I've never had that before," notes Nolan. "It's a relief to be around such like-minded people."
Learn more about clinical simulations and the Center for Experiential Pedagogy and Practice, or contact Professor Benjamin Dotger at bdotger@syr.edu or 315.443.1937.