Ashley Smith-Purviance's G'14 interest in researching education systems and policies—and especially their impact on youth of color and Black girls—stems from her study abroad experience while completing an M.S. in Higher Education at the Syracuse University School of Education.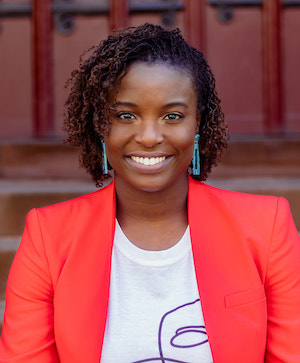 "My visit to Brazil with the School of Education was eye opening," she says. "It made me want to explore a Ph.D. because we were studying youth experiences with disabilities and what challenges students face within the educational system. This made me feel like I needed to take a step back and examine K-12 youth experiences."
Since completing her doctorate in educational policy from the University of Wisconsin-Madison, Smith-Purviance has served as an assistant professor in the Black Studies Program and the Department of Public and Community Service Studies at Providence College in Rhode Island. In fall 2022, she will transition to Ohio State University as an assistant professor.
As she explains in further detail below, Smith-Purviance chose Syracuse's Higher Education master's program because it felt both welcoming and allowed for deep reflection. "Attending SU set me to on the path that I am on now," she explains. "My research looks at Black girls' experiences in schools with discipline but also their process to understand their identities."
What drew you to Syracuse University School of Education and made it a good fit?
Around my senior year of college, I realized I wanted to pursue education, and Syracuse was a top choice because of my interest at that time in higher education. Syracuse provided the opportunity to explore my identity as well as my educational journey.
Additionally, faculty in the department made me feel very welcome. In particular, Professor Cathy Engstrom's home gatherings made me feel cared for. Also, having faculty of color who looked like me and who took the time to understand what my experience was like as a first-generation student was important. There were opportunities to hold hard conversations, allowing me to have a lot of growth and development.
Were there mentors who stood out for you?
Cathy Engstrom was amazing. She was very aware of the experiences of first-generation students and students of color. She used her power to advocate for us, and I will never forget that. She ensured we felt comfortable and that we had the funding and resources we needed to obtain a master's degree. Then there was Professor Dawn Johnson—seeing a Black woman professor deeply impacted me and made me want to become one myself.
"Having faculty of color who looked like me and who took the time to understand what my experience was like as a first-generation student was important."
What specifically inspired your research interests?
During the educational trip to Sao Paulo and Rio de Janeiro is when I shifted focus to K-12. As I researched doctorates, I realized my interests leaned toward educational policy, because I started to reflect on my own educational experience. I grew up on the South Side of Chicago. My mom sacrificed to put me through Catholic school, so I didn't attend the public schools in my neighborhood, but I saw them talked about in a very negative way.
I often wonder what would have happened if I had attended these schools? How would people view me or my educational background? I saw the way other students were treated, and it didn't sit right with me. Learning about funding disparities and segregation and how that has led to different educational experiences made me interested in researching experiences of low-income youth and youth of color.
Can you describe your research in more detail?
During my Ph.D. program, I started a group for young, Black girls called Black Girl Magic in two suburban, predominately white middle schools. I noticed that the way Black girls are treated differently in schools impacts them in multiple ways, including how they feel about being a Black girl. Some would say, "I don't even like being a Black girl," or that they were uncomfortable because of how they were treated.
Black Girl Magic helped them explore their identity and discover pride. We had very difficult conversations but also a lot of fun. A huge part of my research looks at spaces created for youth of color—specifically for Black girls—and seeing what comes of those spaces and what's different there than in school classrooms.
My dissertation explores Black girls' day-to-day experience with "school violence." This can include racism, anti-Blackness, microaggressions, sexism, etc. I look at how the girls navigate this, as well as the school leaders' perceptions of young Black girls, asking why they feel these girls were treated a particular way.
Black Girl Magic taught me we need to allow Black girls to be at the forefront of defining their lives and the educational spaces that they want to be in. Research will often say, "This is what Black Girls need or what they're lacking …" We don't often talk to them directly.
My research also explores violence within and outside of schools. For example, I look at state violence and compare how schools are beginning to mirror society by implementing similar harmful disciplinary and punitive practices.
What advice do you have to other educators about implementing DEI practices?
I've seen how we constantly miss the mark. I think initially educators tried to create spaces to change our practices to be more inclusive or open to all students, especially marginalized students. When we first heard about the practice, the focus was all to diversity: "Let's make sure we have people of color, LGBTQ folks, women, and people from very diverse backgrounds."
But we didn't change the actual institutions at the same time. We brought people to a space that was still isolating and hostile. To really understand diversity, equity, and inclusion (DEI), the equity and inclusion piece is a major part. When we say equity, we know that people are coming from different places in life. So equity might look different for different groups.
I've also seen how we try to implement reform, but our DEI practices have perpetuated the very same harm. There are many scholars—including myself—who talk about DEI, but still perpetuate anti-Blackness or misogyny at the institutional level against Black girls, Black students, or youth of color, because we haven't necessarily teased out how individual populations are being impacted. There's no one size fits all solution.
So, we have to prioritize the goal of dismantling biases, prejudices, and racism but also the systems and structures that allow those to be maintained.
"We have to prioritize the goal of dismantling biases, prejudices, and racism but also the systems and structures that allow those to be maintained."
How do you think we dismantle the structures that perpetuation anti-inclusive and non-equitable education?
Even youth can tell us what that might look like. We need to work alongside the very communities and populations that we are trying to create a better school or a better environment for rather than take a top-down approach.
And we must be open to reimagining things. We all know what it is like to sit in a classroom. But if that method doesn't fit the needs of everyone, what would it look like to reimagine how we do schooling? Are we going to just have one teacher stand at the front and 30 kids in the seats? Or are we going to shift and change how we think about classrooms, curriculums, and standards?
So maybe we don't sit in classrooms all day. Maybe we do more community-based work alongside elders and other community members. I think the biggest thing is to be open to actual change, rather than just re-create what we already have.
By Ashley Kang '04, G'11 (a proud alumna of the M.S. in Higher Education program)
Learn more about the master's degree in Higher Education, or contact Assistant Director of Graduate Admissions and Recruitment Speranza Migliore.