The School of Education produces future educators who care about their students holistically. Feldman is carrying out that legacy in the classroom at Leadership and Public Service High School.
Jordan Max Feldman '16 G'17 teaches history with a special education component at New York City's Leadership and Public Service High School (LPSHS). Feldman chose to teach in the city school for many reasons. "One reason is the diversity of the student population, which I believe is somewhat of a microcosm of the world population. Another reason I wanted to teach public school in NYC is because I feel that urban public schools offer the best opportunity for all students to receive the quality education they deserve."
In his second year as a teacher he is as active outside the classroom as he is in it. Putting his minor in coaching to use, Feldman leads the girls basketball team.
He sits on the board of the Friends of Leadership and Public Service High School where he co-coordinates Syracuse University Mentor Mentee Alliance (SUMMA), the longest running high school mentoring program in NYC. Beyond the more than 60 mentor/mentee pairs at the school, Friends of LPSHS coordinates and funds an overnight college tour of Syracuse University and a local college tour. They also support the student body at large by offering annual $1000 Turnaround Scholarships for seniors who were low performing at the start of high school, but dramatically improved academically over the course of their high school career, and distributing gift cards to LPSHS students who are experiencing homelessness.
Feldman says working with the students at LPSHS has been a joy. He notes that urban students are often negatively compared to their suburban counterparts. "The students here are just as hard working, kind, inquisitive, respectful. Watching them learn and grow has been special, and I can't be more thankful for where I am."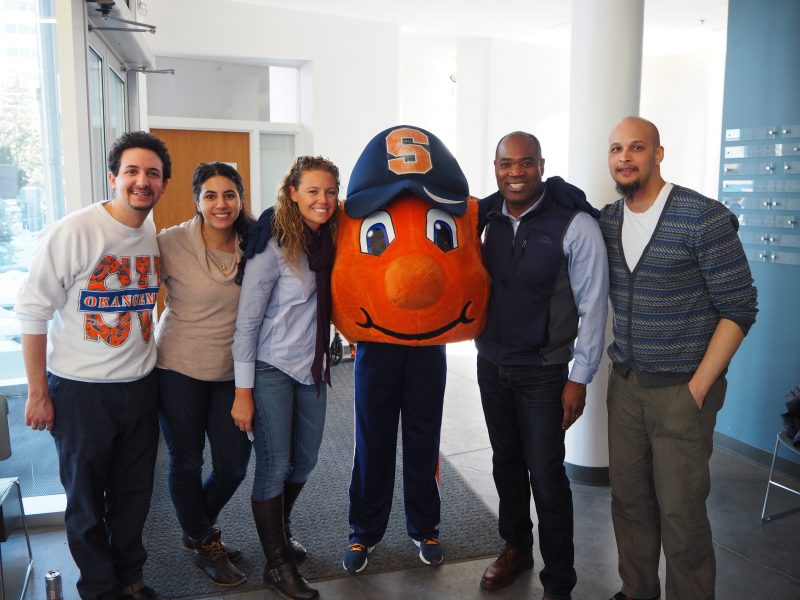 Feldman credits the School of Education with providing him with a strong foundation that set him up for success as an educator. When asked about which experiences shaped his career choice, Feldman is quick to point out that it's the people, more so than anything, that made his experiences at SU invaluable and the memories lifelong. From working as a peer trainer with Syracuse's InclusiveU, to teaching math and English to area refugees, Feldman's work with diverse populations gave him the opportunity to grow not only as an educator but as a person.
Barbara Applebaum, chair of cultural foundations of education, was one of Feldman's most impactful professors. In her courses, she addresses inequities in race, gender, and religion faced by students and asks the future educators in her charge to acknowledge that everyone has their own story—that a classroom and its students do not exist in a vacuum.
Feldman also regards Yusuf Soule, who works with InclusiveU and is the President of the North Side Learning Center, as a mentor who influenced Feldman's education philosophy.
Feldman cites the opportunity to contrast the experiences of student teaching in both urban and suburban districts as one of the most formative for his work.
"Working with a wide variety of middle and high school students, as well as being mentored by quality professionals, was incredibly invaluable to my teaching philosophy and growth as an educator," Feldman says.