On the heels of a $3 million private gift from the Taishoff Family Foundation, the Lawrence B. Taishoff Center for Inclusive Higher Education at Syracuse University has received an additional $2 million in funding from the U.S. Department of Education over the next five years. The funds were awarded through the TPSID program (Transition and Postsecondary Programs for Students with Intellectual Disabilities), which provides grants to institutions of higher education to enable them to create or expand high quality, model comprehensive transition and postsecondary programs for students with intellectual disabilities. The Taishoff Center operates InclusiveU, which enables students with intellectual and developmental disabilities to become fully included in campus and community life at Syracuse University, while achieving their highest potential through post-secondary education. InclusiveU currently supports 12 students on the Syracuse campus, and plans to increase that number to 60 over the next five years.
"This is an exciting time to be inclusive higher education," says Beth A. Myers, interim director of the Taishoff Center, research assistant professor at the School of Education, and principal investigator on the TPSID grant.  "Syracuse University has long been at the forefront of inclusion, and we are so honored that our work has been recognized as a national model for college students with intellectual disabilities."
The Taishoff Center is dedicated to providing full and equitable participation of students with disabilities in higher education, especially students who have traditionally been excluded from post-secondary education. The center was established in 2009 by the Taishoff Family and has been operating InclusiveU at Syracuse University since 2013. Since its inception, the Taishoff Center has made significant impact in supporting students with disabilities in higher education and within society at large. The center has hosted two national conferences and its staff have secured more than $1.2M in grants from the Fund for the Improvement of Postsecondary Education (FIPSE) and National Institute on Disability and Rehabilitation Research (NIDRR), and presented at conferences nationwide.
The InclusiveU program at Syracuse has consistently been at the leading edge of best-practice in the field of post-secondary higher education for all learners, and the additional funding will guarantee that an increasingly rewarding college experience becomes available to even more students with more complex needs.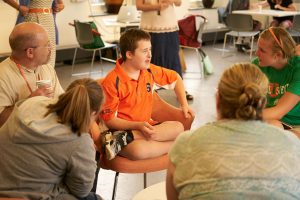 "At Syracuse, students with disabilities can participate in University classes based on their interests, complete individualized coursework, professional internships, and participate in student activities," says Myers. "The five year plan for the center includes on-campus living options that will prepare them for employment and self-direction." Myers explains that the grant funding provides for increased student enrollment each year over the next five years, with each student working toward a certificate in a specialized area of study. Additionally, InclusiveU students will work with employment coaches and be placed in on-campus internships as part of an integrated career development initiative. Syracuse University students from all majors and disciplines will work as peer mentors in social activities, academics, internships, and on-campus living; an expansion of InclusiveU's current Peer-to-Peer program.
The need for universities to create pathways like IncusiveU is critical. Nationwide, the number of students with disabilities who may be eligible for postsecondary education is near 3 million, and only 86 four-year universities welcome students with intellectual disabilities. Of those 86, fewer than 15 offer a fully inclusive learning experience.
Myers says, "The intention is not for Syracuse University to become the only place for students with intellectual and developmental disabilities, but rather to support the growth of capacity within all institutes of higher education so students can attend the college or university of their choice."