Michael Fernandes is preserving his Portuguese heritage through music to benefit future educators
With support from Syracuse's new SOURCE grant program, Fernandes traveled to Portugal last December to document traditional Portuguese folk music with recordings as well as folk song melody transcription for future public use. Fernandes says that, despite the educational popularity of multicultural folk music, Portuguese folk music has little representation in pedagogical use.
Traveling to the Trás-os-Montes area of Portugal, where his parents grew up, was deeply fulfilling to Fernandes. "By going to Portugal and documenting/arranging folk songs, I not only expand the resources available to educators nationwide, but I add to the representation of Portuguese culture," he says. "This is a personal aspiration of mine due to my Portuguese heritage."
His trip took place over Christmas, which he says led to some fascinating impacts on the project. "In Portugal, it is a tradition for singers to travel from door to door singing 'os reis' at the beginning of every new year. 'Os reis,' which translates to 'the kings,' celebrates the Three Wise Men from Catholic doctrine. Upon my arrival, community members were preparing for this tradition, so I recorded many of these songs."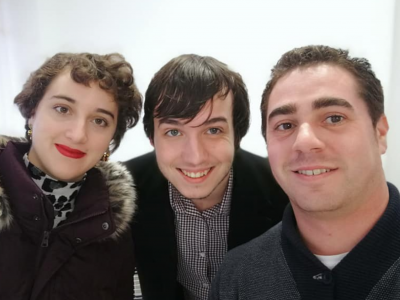 First generation American (and first generation college graduate) Fernandes chose Syracuse for the abundance of opportunities available. During his time at Syracuse, he created a registered student organization and developed a music education program for inner-city students. He decided to become a music education major because of his love for music and desire to give back to the community. "It brings me great joy when working with children and teens," reflects Fernandes.
He is grateful for the project support received from audio engineer, Ro Lorence, as well as his faculty mentor, José "Peppie" Calvar, both from the Setnor School of Music. As president of Syracuse University's chapter of the Music Teachers National Association, he plans to return to share experience with future music educators.
"I will be able to use the arrangements for future instruction, which helps me pursue a multicultural approach. Music educators across the U.S. will also have access to these arrangements, which helps introduce and preserve Portuguese culture."