The School of Education's Taishoff Center for Inclusive Higher Education welcomed State Sen. David Valesky to campus recently, where he attended an InclusiveU/Peer-2-Peer Pizza Party in Schine Student Center. Valesky secured support in the 2016 New York State Budget for the program, which provides an opportunity for students with intellectual and developmental disabilities to attend the University. The funding is helping to supply academic and mentoring support to students enrolled in the program.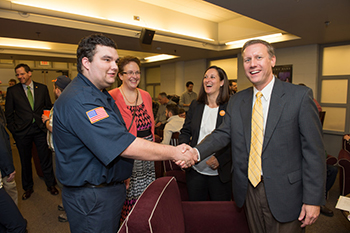 School of Education Dean Joanna Masingila helped welcome the senator to campus, thanking him and the Taishoff Center for helping InclusiveU thrive. Masingila agrees that "Students with disabilities on campus are a true representation of the outside world, and we understand that providing opportunity for them to access higher education is a fundamental right."Valesky used the occasion to meet InclusiveU students on campus. Over 30 SU and InclusiveU students attended the event, and Valesky took time to chat with them as he posed for numerous selfies and ate pizza. When asked for his reaction to meeting the students and staff who make InclusiveU possible, Valesky said that "Getting to connect with students, to see what amazing supportive community exists on the Syracuse University campus, was priceless. I truly feel that inclusive college campuses will be key in building more experienced, diverse and thriving communities."
Others in attendance included representatives from partner organizations, including the Kelberman Center, Onondaga Community Living and the Syracuse City School District. Two parents of current students, Matthew Dydo, owner of Matthew's Salon, and Joe Canestrare, an employee of Syracuse University, also stopped by to personally tell the senator how much the program has meant for their families.
The event was hosted by Peer-2-Peer, the social initiative of InclusiveU that matches matriculated SU students up with non-matriculated InclusiveU students to learn from and support each other as they experience college life. Pizza parties are common for the group, and this event was another way for everyone to get together and celebrate the diverse SU community.
When asked about the event, Tori Cedar, student and InclusiveU Peer Trainer, said: "It was really incredible that he got to see first hand what we do here, and for our students to experience someone important in the community wanting to see what we do. It hits home that we are really doing something big, more than ever."
InclusiveU student and School of Education/Center For Human Policy employee Jonathan Rushmore added, "It was great meeting Senator Valesky, he is very nice, and it is great that he secured funds for InclusiveU to help us grow and improve."