2015 Spector/Warren Fellows travel to Holocaust Museum Houston for learning intensive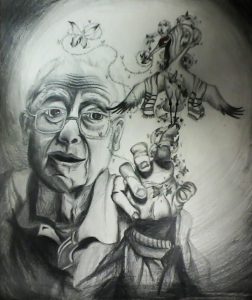 The School of Education announces its tenth class of Spector/Warren Fellows, who traveled to Houston for a six-day learning intensive Jan. 3-9, 2015. The Spector/Warren Fellowship for Future Educators was launched in 2006 in conjunction with the School of Education and the Holocaust Museum Houston and is designed to help future teachers bring the lessons of the Holocaust into the classroom.
Each year, up to 20 undergraduate and graduate students are selected from a competitive and diverse pool of applicants to take part in an intensive six-day institute at the Holocaust Museum Houston. Through a series of lectures and discussions, nationally recognized Holocaust scholars, university faculty and Holocaust survivors provide the historical and pedagogical context for understanding the Holocaust and its implications for contemporary society. While in Houston, the Spector/Warren Fellows document their experience through journal writing and completion of a final project. Fellows will continue to meet on campus throughout the spring semester to participate in discussions and attend lectures related to the material, and complete a capstone project.
2015 Spector/Warren Fellows are:
Katherine L. Ball '15
Art Education
Sang-Me Borneman '15
Music Education
Damon A. Chalk II G'15
School Counseling
Amber Cossette '15
English Education
Casey Duffy G'15
Higher Education
Rachel Heyman '16
Music Education
Ryan Howlett G'15
English Education
Caitlin Hunter '15
Social Studies Education
Molly Lahr G'15
Literacy Education
Anna Lilikas '14
Music Education
Victoria Ryan G'15
English Education 7-12
Julie Saltsiak '15
English Education
Brianna Schaar '15
English Education
Victoria Seager '14
Laura Villers G'16
Higher Education
The Spector/Warren Fellowship for Future Educators is made possible by a gift from Holocaust survivor Naomi Warren and her family and is sponsored by Helen and Andrew Spector and the Spector Family Foundation.