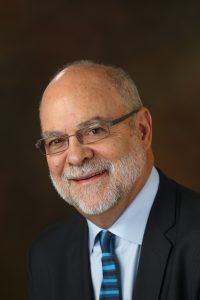 Syracuse University School of Education Dean Douglas Biklen has been invited to speak at The United Nations Convention on the Right of People with Disabilities 5th Conference of State Parties at United Nations headquarters in New York City on September 12. Biklen will be speaking on the panel "Working Together to Implement Inclusive Education" about the UNESCO/Emir Jaber al-Ahmed al-Jaber al-Sabah Prize he accepted in February 2012 in Kuwait for his work promoting opportunity and education for persons with educational disabilities.
Biklen will be participate in a 90-minute panel, which takes place on the first day of a the 3-day conference. Biklen's co-panelists include Regional Education Advisor Philippe Testot-Ferry and Consultant on Education and Disability Equality Richard Rieser. Biklen will be providing his professional experience on the struggles for those with disabilities of all kinds to receive proper and equal education in their schools and communities.
"The UN is playing an extremely active role in promoting school inclusion, something that Syracuse University's School of Education has championed for more than 40 years," Dean Biklen says. "The focus of this particular event is especially important as it links the use of information and communication technology with the goal of inclusive education."
The goal of the Convention on the Rights of People with Disabilities is to move forward equal opportunity and inclusive education initiatives, as well as initiatives to promote community involvement and acceptance of those with disabilities.
The Convention on the Rights of Persons with Disabilities and its Optional Protocol was created in December 2006 at the United Nations Headquarters in New York, and was officially enacted in March 2007. The Convention follows years of work by the UN to transform attitudes of persons with disabilities, specifically focusing on changing the perception of disabled persons as objects of charity, treatment, or protection to seeing them as consumers who are capable of making their own decisions, exercising all of their human rights, and being contributing members of society.