The Syracuse University School of Education announces a new scholarship initiative that will provide master's tuition support for the children of Syracuse University employees.
The Orange Family Scholarship will offer funding covering 25% of the cost of tuition to children of Syracuse University faculty and staff members who have graduated from their undergraduate degree programs within the last five years and newly matriculate with full-time enrollment in the 2018-2019 academic year into any School of Education Master of Science (M.S.) degree program. Students may be eligible beginning in summer 2018.
Dean Joanna Masingila of the School of Education says, "We have outstanding programs in the School of Education and want to offer children of SU employees a scholarship opportunity to assist them in pursuing graduate studies in education, in the same way that we offer SU alumni within the last five years scholarship support."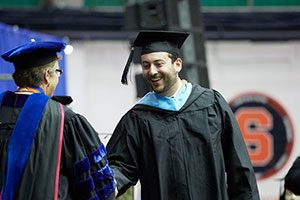 The School of Education also offers competitive scholarships such as the High Needs Scholarship for master's program students enrolled full-time in the High Needs areas of literacy, mathematics, science, special education, and teaching English language learners; and the Graduate Tuition Scholarship for graduates of Syracuse University undergraduate programs. Though these SOE scholarship programs cannot be combined, students remain eligible for merit-based awards, assistantships, and financial aid.
The School of Education will host a Graduate Programs Open House on Friday, November 10, 2017, from 4:30 – 6 p.m. in the Sharon Jacquet Education Commons in Huntington Hall. Prospective students are encouraged to attend and learn from the faculty and current graduate students who will be representing over forty M.S., C.A.S., Ed.D. and Ph.D. program offerings in teaching, and non-teaching areas.
Financial aid and admissions specialists will also be present to work with prospective students individually.
For more information about School of Education graduate programs and to register for the Open House, visit soe.syr.edu or call Speranza Migliore, Assistant Director for Graduate Admissions in the School of Education at 315-443-2505.