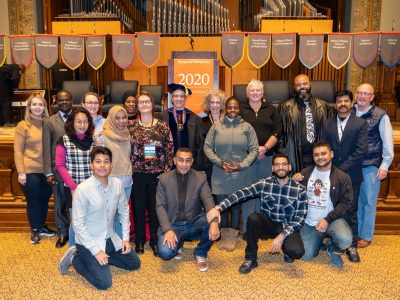 For the second consecutive year, the School of Education is hosting recipients of the Fulbright Distinguished Awards in Teaching Program for International Teachers (Fulbright DAI), which brings international primary and secondary teachers to the U.S. for a semester to pursue individual or group projects, take courses for professional development, observe and share their expertise with U.S. colleagues.
Sixteen teachers from 13 countries, including Botswana, New Zealand, Indonesia and Uganda, will live on campus for the semester and participate in classroom placements in the Syracuse, Jamesville-DeWitt, East Syracuse-Minoa, and Solvay school districts. In addition to working in area schools, these teachers will collaborate as a professional learning community on inquiry projects to develop materials, workshops or other resources to meet an educational need in their home country.
Teachers are supported by faculty advisors from the School of Education through advising and mentoring, and graduate student peer mentors are also supporting the group as they settle into the Syracuse community. Members of the community will also serve as area hosts, or "friendship families," sharing cultural and social experiences with the visitors.
"We are thrilled to be hosting another cohort of Fulbright DAI recipients," says School of Education Dean Joanna Masingila, who co-leads a weekly seminar course for the Fulbright teachers.
"The Fulbright DAI selection process is highly competitive, so these sixteen scholars represent the very best of what is happening in global teaching and learning. I'm thrilled that the School of Education was again chosen to be a host institution for this program."
The Fulbright DAI program is sponsored by the U.S Department of State, with support from the U.S. Government, and is administered by IREX, a global development and education organization. Two other institutions are also hosting Fulbright DAI cohorts in spring 2020—Arizona State University and Indiana University of Pennsylvania. The Fulbright teachers arrived in Syracuse late last week, after several days of orientation in Washington, D.C. with the participants from the other institutions.