The 2018-2019 Public Humanities Fellows both represent the School of Education: Camilla Bell '14 G'18 and Gemma Cooper-Novack. The fellowship supports graduate student public scholarship, helping them conceive of and develop their work in relation to the local community, and develop skills for doing public work beyond graduation.
Collective Writing with Refugee and Immigrant Youth
Gemma Cooper-Novack, a doctoral student in literacy Education also is a proponent of public scholarship, as evidenced by her desire to develop a yearlong out-of-school-time program for locally resettled refugees. Her goal is to help them write and publish a middle grades collective novel. Providing refugees with authentic writing opportunities is a relatively new concept, and Cooper-Novack hopes her project will push the boundaries of narrative writing.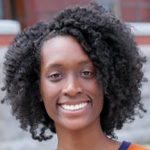 Freedom School: Education for Liberation
Camilla Bell, a doctoral student in cultural foundations of education, is using her fellowship to launch a retreat for participants of the 2018 Summer Arts & Culture Camp, facilitated by the Community Folk Art Center (CFAC) and modeled after the Freedom Schools of the Civil Rights Movement. She works closely with SOE Professor Mario Rios Perez, CFAC Education Director Tamar Smithers '07 and former camp facilitators Evan Starling-Davis G'20 and Howard Jones Jr.
Read more about both of their projects on Syracuse University News