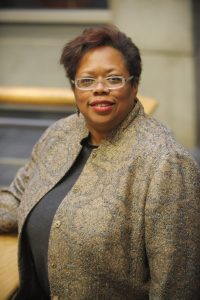 Kal Alston, professor of cultural foundations of education and associate dean for academic affairs in the School of Education, will serve as president elect for the Philosophy of Education Society for 2019-20 year before becoming president of the organization in 2020-21.
Alston has been active with Philosophy of Education Society (PES) for over 30 years, having attended her first conference in 1988, and previously serving as chair of the Commission on Professional Affairs, the Committee on Race and Ethnicity, and the Just Community Committee, which is an outgrowth of recent work completed to articulate an anti-harassment policy for the society.
Although involved in many academic organizations, she views PES as her academic "home base." "My graduate advisor and cohort mates, my own former grad students, and former and current colleagues continue to be involved in the society," explains Alston. "Then, as now, I have an interest in promoting the study of philosophy of education, the continuation of that work in schools and colleges of education, and the broadening of conversations in and around the society about how our concerns are woven into addressing important ethical, educational and social equity issues."
Since joining the University in 2005, Alston has held Universitywide roles, including the senior vice president of human capital development, as well as both senior associate provost and associate provost for academic administration. In 2018, she was named the associate dean for academic affairs for the School of Education, where she oversees curriculum, accreditation, scholarships and various supports for graduate student research and learning. Alston spent her earlier career at the University of Illinois at Urbana-Champaign in educational policy studies and as director of the Gender & Women's Studies Program, and received a Ph.D. from the University of Chicago.
Her most recent publications have focused on ethics and community responsibility, the phenomenological experience of race in philosophical practice and the ethics of educational leadership and policy.
The Philosophy of Education Society is an international forum that promotes the philosophic treatment of educational practice, policy and research; advances the quality of teaching the philosophy of education; and cultivates fruitful relationships between and among philosophers, philosophers of education and educators. The society recently held its 75th annual conference.