Currently on display in the Sharon H Jacquet Education Commons is an installation by InclusiveU student Omari Odom, a senior studying animation. Desires and Harmony: Paintings and Drawings by Omari Odom takes viewers on a journey through Odom's imagination, from his interest in cartoons, video games, and popular culture as a high school student, to his current fascinations and interpretations of musical artists and beloved characters.
The show is sponsored by The Lawrence B. Taishoff Center for Inclusive Higher Education and Light Work, a non-profit photo and imaging center located at Syracuse University. Originally Odom was scheduled to work at the Light Work lab as part of his InclusiveU internship programming, but those plans were usurped by COVID-19. Not wanting to waste his talent and energy, Mary Lee Hodgens, associate director of Light Work, thought of other ways to engage Odom. The decision was made to build a show around his work.
"We worked with Omari, using the same process we use with any of our featured artists," Hodgens says.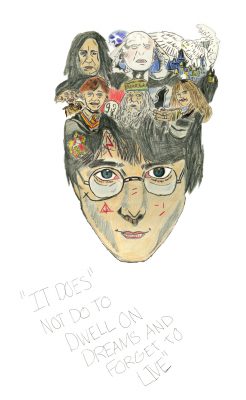 Hodgens worked with Odom to select pieces of art to include in the exhibit, and ultimately chose most of the work that Odom put forward, demonstrating Odom's artistic progression over the last 8 years. Light Work scanned the images and printed them out on adhesive material to affix to the walls of the Commons. The show will remain on display through the spring 2021 semester, allowing time for visitors to view the space, and for Odom to do a virtual gallery tour and reception.
Omari has been drawing since he was four years old and cartoons have always been his favorite subject. His earliest inspirations came from watching black and white Mickey Mouse cartoons, and at a young age he set his sights on becoming an animator and illustrator.
Odom attended Liverpool Central Schools, but the thought of attending college at Syracuse University was "just a dream." Through the InclusiveU program, Odom has been able to participate in college life, and take classes such as Experimental Animation, Drawing for Comic Books, and Intro to 3D Animation/VFX.
"I can't believe my dream came true," he says. "I am so grateful to be here at Syracuse University."
In addition to the opportunity to take interesting classes, Odom says the best part about InclusiveU is "being an SU student and not being treated different from anybody else."