When asked about her dance classes for people with Parkinson's disease (PD), Tumay Tunur is clear, "It is a dance class, not dance therapy," she says. She feels dance helps people with PD escape from their world of problems, medication and illness. Her program is called Moving Through Possibilities and is designed to help people with the condition find control and movement. Tunur is a postdoctoral associate in the exercise science department at the Syracuse University School of Education. For her efforts in engaging the community and promoting healthy aging, Tunur will be honored with a Syracuse University Orange Circle Award on Tuesday, March 22, 2016. The Orange Circle Award honors individuals who go above and beyond in their daily lives and who possess a deep responsibility for extraordinary philanthropic acts. These are not limited to financial support, but also include volunteerism—those acts that better society through contributions of time and talent.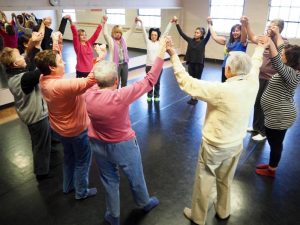 Tunur's Moving Through Possibilities program is based on The Dance for PD® program started in 2001, a collaboration between the Brooklyn Parkinson Group (BPG) and the Mark Morris Dance Group (MMDG), an internationally known dance company in Brooklyn. Tunur, who started dancing over a decade ago in her native Turkey, heard about Mark Morris and the Dance for PD® program while doing neuroscience research at the University of Illinois at Urbana-Champaign (UIUC). She became so interested in what they were doing, she traveled to New York to start the process of becoming a certified instructor in Dance for PD®.
"When I don't make it to class, my body misses it," says Lucy, a senior citizen, who drives to the Westcott Street area from across town to attend the PD dance class. She says it is beautiful to see everyone together, moving their hands and legs in synchrony. Tunur leads the class with the right mixture of playful enthusiasm, and knowledgeable authority, playing relaxing or upbeat music to create the right mood. She tells stories to connect with the exercises to make the movements more fun, and easier to remember. For example, she talks the class through a sequence by saying, "Reach like you are hugging someone but then you get punched in your stomach! Arc your spine back, and then reach out again to make up with the person who punched you."
A common complication of Parkinson's is the inability to stop and start movements. Someone with PD, for example, might freeze while walking and may not be able to continue moving. People with PD also lose fine motor skills, so routine tasks like buttoning a shirt or tying shoelaces can become challenging. Tremors also develop, further complicating fine motor function.
"There are also psychological effects," says Tunur, "PD can affect mood, leading to frustration and anger." These physical and psychological changes can cause people with PD to become isolated and disconnected from the world, Tunur says. "Moving through Possibilities provides a place to go and something fun to do that is not based on Parkinson's or their medical requirement, but rather, based on beauty, art, and aesthetics. Instead of seeing themselves as patients with PD," Tunur says, "they see themselves as dancers."
Beyond her experience as a dancer, Tunur has an impressive record as a scholar and researcher. In her position as a postdoctoral associate in neuroscience in the department of exercise science, she teaches classes in dance, exercise, and brain function and has authored numerous articles. She encourages her students to volunteer at the Moving through Possibilities classes, and many do become involved.
The School of Education has a long history of providing education, arts, and community engagement opportunities to diverse communities. Aligned with School of Education principles, the class focuses on possibilities rather than disabilities, and explores strength, balance, and flexibility, and provides tools the dancers can use in their daily lives. Moving through Possibilities connects people to other resources they may need including nutrition, communication, and social opportunities. In addition to people with Parkinson's, friends, caregivers, family members and health practitioners are invited to participate.