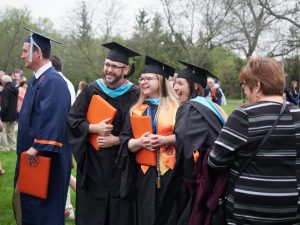 The School of Education is providing new funding opportunities for graduate students who begin select master's degrees in summer or fall 2019. Through a combination of scholarships, grants and other funding, students can receive a 60-75 percent discount on the total tuition cost of a master's degree in several education and counseling areas.
"These scholarships drastically decrease the cost of tuition and make it much more affordable for a student to pursue one of the School of Education's highly ranked graduate degree programs," says Amie Redmond, senior assistant dean for academic and student services in the School of Education. Scholarships are available for programs in high-demand areas of inclusive and special education, mathematics and science education, and mental health and school counseling. Many of these qualifying programs can be completed in 12-15 months.
Funding available includes:
The School of Education is ranked 13th among private graduate schools of education by U.S. News & World Report for 2019, and ranked 14th among special education graduate programs. Anyone interested in starting one of these degree programs in summer or fall 2019 can attend an upcoming School of Education Graduate Program Information Session, visit the School of Education website or contact Speranza Migliore at gradrcrt@syr.edu or 315.443.2505.