Professor Sharon Dotger brings professional development opportunities to area science teachers using "lesson study" method
When Sharon Dotger, associate professor of science teaching in the School of Education, says the methods she's teaching work, she speaks from experience.
For more than a decade, Dotger has taken part of her summer to teach in local elementary schools each June. Last summer, she taught a unit about solids and liquids to first-grade students over a four-day period in two classes.
"It isn't enough to tell my students what this instruction should look like. I need to be able to show them and support them when they try to do it themselves," says Dotger.
"In fact, sometimes I teach children in front of our pre-service teacher candidates," she continues. "It's messy and a giant scheduling challenge, but I hope that it keeps me connected to the classroom and gives my students an opportunity to engage with me in the challenges associated with teaching well."
Dotger is a proponent of the "lesson study" method of professional research and development. She implements lesson study research in local elementary schools—both in the Syracuse City School district and suburban districts—making professional development opportunities available to local science teachers.
Dotger's work was previously funded by the 100kin10 organization, to support teachers to implement the Smithsonian Science Education Center-developed instructional materials through lesson study. "Through the collaborative network we've built with the Smithsonian and BOCES, teachers in the area are piloting their materials and our lesson study work is helping shape the development of instructional materials that will be available nationwide," Dotger says.
The most recent professional development conference, "It's Go Time: Seeing the Future through the New NYS Science Standards," happened in March at Homer Junior High School. SOE and the OCM BOCES Center for Innovative Science Teaching sponsored the conference which featured live demonstrations, 150 participating teachers, students from two districts, and two national speakers.
New York adopted a revised version of its standards for science teaching for K-12 schooling as articulated in the Framework for Science Education and the Next Generation Science Standards, Dotger explains.
"If we can bring them to life in the classroom, the science learning opportunities for children will improve," she says. "The vision is to move beyond basic hands-on. It is to engage kids in work that matters and mimics scientists' ways of thinking. We want to move beyond baking soda-and-vinegar 'volcanoes' or models made from food."
"Sharon Dotger is passionate about supporting children in learning science, and that is why she spends much of her time working with teachers in Onondaga County to support them in thinking carefully about and planning for engaging children in learning scientific concepts and processes," says Dean Joanna O. Masingila. "K-6 science education is a key component in STEM education and developing a scientifically literate society."
The "lesson study" name comes from the Japanese phrase jugyo kenkyuu, which translates as lesson study or lesson research.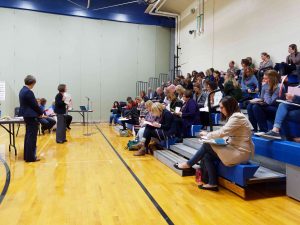 Teachers collaboratively name a research theme; study standards, curriculum resources, and research about students' thinking; and design a lesson that links the study to the research theme. One of the teachers then teaches the lesson to students, with colleagues observing. This live observation gathers data about students' reasoning. Afterward, the teacher and observers discuss the students' ideas, evaluating them against the research theme and setting goals for further inquiry.
"I conduct lesson study with teachers—and teach lessons to children—to try to continue to link research to practice," Dotger says.
"In my research, I want to know more about how students are learning in classrooms and how our teaching is related to that learning. This is the fundamental goal of lesson study," she continues. "I'm interested in learning how teachers are learning from this process. The pre-service teachers engage in the best approximation of lesson study I've been able to create thus far in my methods class. And I'm excited about future opportunities to partner my students with local teachers doing lesson study."
Teachers continually experience an aha moment when learning about lesson study.
"As a most recent example," Dotger says, "while planning a research lesson for the upcoming conference, a teacher exclaimed, 'I see now. It isn't only about this lesson. I'm learning things that impact every lesson I teach, every day.'"