Kathleen A. Hinchman has been appointed to serve as Associate Dean for Academic Affairs of the School of Education at Syracuse University.  She has been working in this role on an interim basis since July 1, 2014, and was formally installed into the position on March 17, 2015, with the appointment of Joanna Masingila as Dean of the School.
"Dr. Hinchman is a well-respected professor in the School of Education and I'm very appreciative of her willingness to serve as Associate Dean of Academic Affairs, says Joanna Masingila, dean of the School of Education. "I look forward to collaborating closely with her as we work with all of our colleagues on the core mission of the School."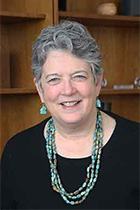 Hinchman says, "I am honored and humbled to serve Dean Masingila and the School of Education in this way. It's an exciting time to be in such a forward thinking environment!"
Hinchman is a professor and former department chair of the Reading and Language Arts Center in the School of Education. A former middle school teacher, she now teaches literacy methods courses and doctoral seminars. Her research explores adolescents' and teachers' perspectives toward literacy, with a recent focus on literacy-related secondary school reform. Hinchman has published several books, including Reconceptualizing the Literacies in Adolescents' Lives (Routledge, 2012) and Best Practices in Adolescent Literacy Instruction (Guildors Press, 2014).
She has served as President of the Central New York Reading Council and the New York State Reading Association, and as a member of the Board of Directors and 2009 president of the Literacy Research Association (formerly the National Reading Conference).