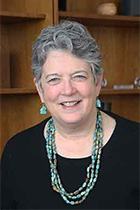 Kathleen Hinchman, Professor of Reading and Language Arts in the School of Education has been elected into the Reading Hall of Fame, an independent organization that recognizes lifetime achievements in the field of reading. She is among 6 new living members and 4 deceased members, who will join the Reading Hall of Fame membership in 2020.
This honor is another notable addition to Hinchman's portfolio of distinctions as a senior scholar in her field. A graduate of the English education B.S. program and reading education M.S. program in the School of Education, Hinchman began her career as an educator nearly 40 years ago as a middle school English teacher at West Genesee CentralSchools. She completed a Ph.D. in reading education and a minor in cultural foundations of education, again at the Syracuse University School of Education. After working in several other higher education and school leadership positions, she began her tenure as a faculty member in 1988.
In her time at Syracuse, she has served as the chair of the Department of Reading and Language Arts and as the associate dean for academic affairs for the School of Education. Her service to the profession and the recognitions she has received for her work have been significant. She is a member of the Board of Directors of the Proliteracy Worldwide and is former president of the Literacy Research Association and the New York State Reading Association. Her lengthy list awards of awards and honors include the Graduate Teaching Excellence Award, Chancellor's Awards for Public and Community Service and Literacy Service Awards from local reading councils. Hinchman has maintained a consistent record of publication, authoring or editing over 100 articles, books, and commentaries throughout her career. She is currently co-editor of the Journal of Adolescent & Adult Literacy and co-director of the Syracuse University Liberty Partnerships Program, a program offering extracurricular academic support for secondary school students in the Syracuse City School District. Hinchman currently teaches undergraduate and graduate classes in childhood and adolescent literacy. Her research explores youths' and teachers' perspectives on literacy.