When Janine Bernard and Dick Hackney joined the School of Education faculty in 2000 they were already influencers in their field, having over 40 years of professional counseling and higher education experience between them. Their leadership and partnership in their own work, and on behalf of the Counseling and Human Services (CHS) department in the School of Education, contributed to national prominence for the department and helped to support its longevity. Now, on the other side of celebrated careers at Syracuse, Emeritus Professors Bernard and Hackney reflect on past challenges and contributions as their influence on the field, department, and alumni deepens.
"We are so fortunate to be part of a profession that centers on improving the health and lives of others," says Bernard. "It's a privilege that we all should honor no matter where we are in our careers. For us, it was always important to do our jobs fully and well and to try to be good colleagues."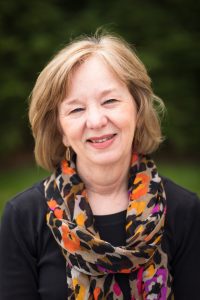 Professor Emeritus Janine Bernard has a long and distinguished record of service and administration. She served as department chair and sat on several School of Education and University-wide committees. Under her leadership, the Counseling and Human Services department successfully completed two accreditation cycles with the Council for the Accreditation of Counseling and Related Educational Programs (CACREP). She also oversaw the addition of a clinical mental health counseling program that prepares graduates for licensure in New York State.
Work on the doctoral program, and raising the research profile of the department stand out as a challenge and an accomplishment for Hackney and Bernard. Remembering their first years in Syracuse, Bernard says, "Dick proposed an enhanced curriculum and we initiated a zero-credit research course to enhance the research profile of the department. I still remember a day-long retreat we had at our home that first year and the faculty came up with a dozen proposals. Within two years, we had met all but two of them!" In 2008, CACREP gave CHS the maximum number of years for re-accreditation and cited the doctoral program as particularly strong.
Nationally, Bernard served as chair of the National Board for Certified Counselors (NBCC) and board member for the Association for Specialized and Professional Accreditors. The American Counseling Association recognized her with the Arthur A. Hitchcock Distinguished Professional Service Award, and the Association for Counselor Education and Supervision (ACES) Legacy Award. Together, Bernard and Hackney were inducted as ACA Fellows in 2006 in what was only the second class of persons awarded this honor.
Bernard is best known for her scholarship in the area of clinical supervision. Her "discrimination model," published in 1979, is the most cited and researched supervision model in the field. Her co-authored text Fundamentals of Clinical Supervision (with Rodney Goodyear of Redlands University) is in its 6th edition and is considered the most authoritative text on the subject. The North Atlantic Region of the Association for Counselor Education and Supervision (NARACES) commemorated her substantial impact on the field of clinical supervision by honoring her and naming their "Outstanding Supervisor Award" after her.
Like Bernard, Hackney's contributions to the profession are invaluable, and his 7 years on the faculty at Syracuse were the capstone to an admirable career in education that began as a junior high school teacher in 1956. He worked as a guidance counselor and vice principal and then devoted many productive years to Purdue University and Fairfield University, where he also served as associate dean of the Graduate School of Education & Allied Professions. During his career, Hackney served as president of the Association for Counselor Education and Supervision (ACES) and president of the Center for Credentialing & Education. These, and other hallmarks of Hackney's career were recognized in a book chapter penned by two of his former students and published in Leaders and Legacies: Contributors to the Profession of Counseling (Routledge, 2003).
Long known for his commitment to his students, at the time of his 2007 retirement, Hackney established a fund within CHS to support doctoral student travel to professional conferences, "a lifeblood for entering higher education in counseling," explains Bernard. Hackney continued to teach courses in his retirement, and the stipends went directly to the fund. "When I retired seven years later, I contributed to the fund as well through donating the stipends for both teaching and assisting the department with one more re-accreditation cycle," Bernard says.
Bernard and Hackney are grateful for careers that aligned with the development of the profession, and humble about how their contributions shaped the field. "When Dick's career was launched, there was not much distinction between counseling psychology and counselor education," Bernard explains. "When my career was launched six years later, neither CACREP nor NBCC were established, licensure for counselors was in its nascent stage. As we look back it was a very exciting time because we were still a young profession and every development seemed so important."
The 8th edition of Hackney and Bernard's co-written text, Professional Counseling: A Process Guide to Helping, was published in 2017, a testament to their lasting impact and relevance. "If we have any lasting legacy it is in the work done by all the counselors we have taught over the last forty years," Bernard says. "We have been privileged to teach and supervise so many wonderful future counselors."
This article originally appeared in the 2019 issue of Education Exchange Magazine