More than 300 educators from across Central New York are converging on Roxboro Road Middle School in Mattydale today for a science conference that offers four "live" research lessons in which students and teachers can engage in practices aligned with the new state science standards.
The event marks a unique collaboration between the Onondaga-Cortland-Madison Board of Cooperative Educational Services (OCM BOCES), the School of Education, the Smithsonian Science Education Center and several local teacher centers: Central New York/Oswego County; Jamesville DeWitt/Syracuse University; West Genesee/Syracuse University; Syracuse; and Cayuga-Onondaga.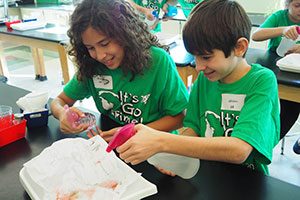 The sold-out conference is especially significant because members of the New York State Board of Regents received the New York State Science Learning Standards (NYSSLS) in June and are expected to approve them soon. Reflecting the imminent nature of this action, the conference is called, "It's Go Time! Seeing the Future through the new New York State Science Standards."
"The intent of this conference is to help educators visualize the new standards in action through observation and discussion," says Jessica Whisher Hehl, coordinator of the Center for Innovative Science Education at OCM BOCES. "This will allow the region to begin its collective learning to implement the new standards and provide science-learning opportunities for all students."
Whisher Hehl has been coordinating the event since last year with Sharon Dotger, associate professor of science education and lesson study researcher in the School of Education.
The conference agenda incorporates lesson study, which Dotger defines as "a collaborative teacher professional learning and research model to promote collective learning about the relationships between standards, student thinking, curriculum materials and instructional practices."
"We want participants to leave with a better understanding of the standards, a positive sense of excitement for what they offer, and a vision for how they might look in their classrooms," she says.
The live research lessons include a second-grade lesson on preventing erosion, a fourth-grade lesson on energy transfer, a fifth-grade lesson on groundwater and a sixth-grade lesson on modeling the relationship between the moon, sun and Earth. Teams of teachers and students from the North Syracuse, Liverpool and Marcellus school districts will be on hand to teach the lessons as conference participants observe and take notes.
"To my knowledge, this is the first conference in the U.S. to focus on the intersection of elementary science and lesson study," says Kelly Chandler-Olcott, associate dean for research in the School of Education. The university is "tremendously excited to be involved," she adds.
In addition, national leaders in science education will offer context and inspiration for the work that lies ahead.