Three faculty in the School of Education will be honored by Syracuse University on April 13. Barbara Applebaum, associate professor of cultural foundations of education, will receive the Syracuse University Scholar/Teacher of the Year Award. Also being honored are Marcelle Haddix, assistant professor of reading and language arts, and James Haywood Rolling, Jr., associate professor of art education, who will receive Meredith Teaching Recognition Awards. The recognition reception will begin at 4 p.m. in the Goldstein Alumni and Faculty Center.
The Teaching Recognition Awards program was established in 2001 through an expansion of the Laura J. and L. Douglas Meredith Professorship Program. The Meredith Professors themselves proposed that the Teaching Recognition Award program recognize excellence in teaching by non-tenured faculty and adjunct and part-time instructors. Recipients are selected for teaching innovation, effectiveness in communicating with students and the lasting value of courses.
To be eligible, candidates must have completed two years of service to the University and not yet received tenure. Each recipient is given $3,000 to further his or her professional development.
Marcelle Haddix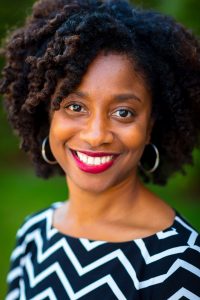 Haddix is a critical English educator who focuses on how to best prepare all teachers for working in culturally and linguistically diverse settings.
She assumes enormous personal responsibility to educate undergraduate and graduate pre-service teachers to meet the literacy demands of an increasingly culturally and linguistically diverse K-12 student population.
Haddix teaches undergraduate and graduate courses in literacy across the curriculum, adolescent literacy, writing and composition, children's and adolescent literature, and secondary English teaching methods with a determined desire and resolve to educate students about the complex issues related to literacy, language and learning among today's schoolchildren.
Beyond providing students with teaching strategies and methods, Haddix wants pre-service teachers to be prepared for the experience of shifting their thinking about teaching, and learning to critically interrogate their own social location and the ways in which they engage with the realities of teaching. One way that Haddix accomplishes this is by incorporating opportunities for community engagement that go beyond the classroom. She also teaches many of her courses in local school classrooms and libraries, with the belief that physically locating courses in schools creates an opportunity for her students to make real connections between the theories they learn about and discuss, to actual practice in classrooms with teachers and students.
Haddix's students consistently recognize her passion and commitment to teaching for social justice and educational equity. She also founded and directs the "Writing Our Lives" project, a program geared toward supporting the writing practices of urban youth within and beyond school contexts. A highlight of this project is the annual Youth Writing Conference that brings together middle and high school students, teachers, university faculty and community members.
James Haywood Rolling Jr.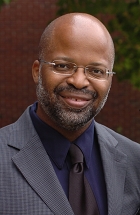 In his earlier education, Rolling completed his M.F.A. in studio arts research at SU, while also a graduate fellow in the Department of African American Studies. As a researcher, he is devoted to telling the story of how we constitute, shape and reinterpret personal and collective identity.
While preparing teachers for K-12 New York State art teacher certification, Rolling is also actively instigating the re-conceptualization of the art education discipline as a natural nexus of interdisciplinary scholarship where visual art, design and several other arts-based and innovative practices intersect as an avenue of social responsibility. Rolling's primary mission is that art education teachers be trained to do more than teach students to make beautiful objects and artifacts, or express themselves, or critique visible social structures. More than this, Rolling wants it to be said that SU art education graduates were trained to lead students as partners in the development of beautiful and needful objects and products, in expressing both themselves and their communities and contexts, and in critiquing contemporary visual culture while also envisioning the not-yet-visible at the cusp of creation.
Rolling's published research either explores the arts-based research paradigm or comprises exercises in narrative inquiry, gravitating toward the intersection of certain discourses such as autoethnography, critical race theory and performance studies, which work from the margins of traditional qualitative research to reinterpret research conventions. He was recently an associate editor of the award-winning SAGE Encyclopedia of Identity. A member of the International Congress of Qualitative Inquiry, Rolling's scholarly interests include: arts-based educational research, visual culture & identity politics, curriculum & pedagogy, social justice & community-engaged scholarship, and narrative inquiry in qualitative research.
Rolling is the author of the new book "Cinderella Story: A Scholarly Sketchbook About Race, Identity, Barack Obama, the Human Spirit, and Other Stuff That Matters" (AltaMira Press, 2010), is in contract to write an arts-based research primer, and is developing a book on the social origins of creativity. As a visual artist, Rolling specializes in mixed media explorations and portraiture and views studio arts practices as an essential form of social research.
Barbara Applebaum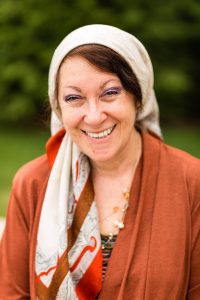 Applebaum is trained in philosophy of education and teaches both undergraduate and graduate-level students to not only understand this difficult coursework that involves ethical and diversity issues in education, but also works to insure an open dialogue for students to discuss and explore the sensitive topics that are part of this curriculum. By having her students read a broad range of texts and by teaching them the tools to analyze these materials through close reading and critical thinking, Applebaum is recognized for her ability to motivate students to develop their own opinions on these issues, and to encourage them to listen to others' opinions as given from different social locations.
Since joining SU in 2002, Applebaum's scholarly interests have focused on the point where ethics, education and commitments to diversity converge. To most effectively teach students on how to utilize these educational philosophies and theories in their future roles as educators, Applebaum develops innovative curricula for her classes, using films, television, advertising and other forms of popular culture to make real the material and allow students to develop its analysis in a contemporary setting.
"Teaching for me is an opportunity to inspire students to examine their assumptions about the social world they live in and to help them to be open to the possibility of different interpretations of social reality," says Applebaum. "My objective is to provide students with a new lens through which to view their social world and to use this understanding to reflect upon their own teaching."
"Barbara Applebaum not only makes time for students, welcomes them into her office and teaches classes that are stimulating, thought-provoking and significant in their lives, but she is also a great colleague to her fellow faculty, with whom she's always ready to discuss pedagogical questions," says School of Education Dean Douglas Biklen. "She has been asked to speak about her pedagogy in different pedagogical forums, like the Gateway teaching series, and she is very present in the life of her department, where she advises both undergraduate and graduate students and manages graduate admissions. She also chairs the School of Education's Future Professoriate program."
Applebaum also has a special interest in teachers' self-reflections on their own teaching process and has written topical articles on building trust in the classroom, and what teacher authority can mean for a feminist pedagogue.
In 2006, Applebaum was honored with a Teaching Recognition Award, sponsored by SU's Meredith Professors.