International students enrich the School of Education's community by contributing unique global perspectives.
35 countries are represented in the School of Education's student body.

"Being in the same classroom and hallways with the students of different backgrounds, viewpoints, and experiences are cultural and educational wealth," says Mirjakohn "MJ" Turdiev G'16, G'20.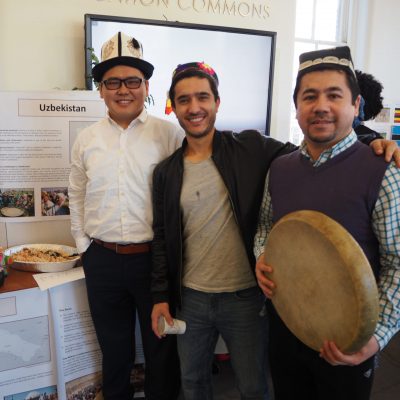 Turdiev has been at the University for six years, beginning his studies at Syracuse as a Hubert H. Humphrey Fellow, earning a master's in public administration from the Maxwell School of Citizenship and Public Affairs. He completed a C.A.S. in disability studies and coursework in doctoral work in cultural foundations of education before transferring back to Maxwell to complete his dissertation. His research and collaboration in the Syracuse disability community has touched all corners of campus including the Disability Cultural Center, the Taishoff Center for Inclusive Higher Education, Disability Law Clinic, Center on Human Policy, and Burton Blatt Institute.
Connecting his experience at Syracuse to his home country of Uzbekistan is a priority for Turdiev. "Being in the United States and Syracuse University, in particular, I try to maximize my investment in building and supporting mutual relationships between the people of the United States and Uzbekistan," he explains. To implement this mission, with other country fellows from Uzbekistan based in Washington D.C., he founded the American Uzbekistan Association (AUA). In this role, he was able to direct support to an organization in Uzbekistan working with children with Down syndrome and bring a speaker from the National Down Syndrome Society to address education issues of children with disabilities in Uzbekistan.
Turdiev is involved in the international disability movement directed at antidiscrimination of persons with disabilities, disability inclusive development and policy making, and empowerment of people with disabilities and their representing organizations. "During and after my Ph.D. program, besides the continuation of my international works, I envisage to found and develop a disability education, research and advocacy institute in Uzbekistan that will operate in five central Asian countries," Turdiev says.
He explains that the academic and research experiences he gained from the School of Education are an integral part of his plan's success. "I believe my dissertation work, academic and professional networks established at Syracuse University and the US will contribute to the achievement of this long-term objective. I plan to extend the disability related academic, research, and advocacy expertise of the Syracuse University community to central Asia through this prospective institute."
Turdiev says the key approaches to improving situations for people with disabilities are education and awareness raising. He presents on YouTube, webinars, and uses a blog and media interviews to share his new knowledge and experiences on disability with the people of Uzbekistan. "My biggest long-term and ambitious goal in changing the situation around disability in Uzbekistan is the deinstitutionalization of children with disabilities. I have started my disability work at the project that introduced and piloted community-based living of the people with disabilities as an alternative to institutionalization, and the piloting was successful. Therefore, I believe deinstitutionalization is needed and possible in Uzbekistan."
His desire to connect and collaborate with others has led to deep engagement at Syracuse University as well. He sits on the Syracuse University Internationalization Council and is a founding member (and current president) of the Central Asia and the Caucasus Student Union (CACSU) campus organization, representing the voices of their members in the broader university community as well as partnering with other similar student organizations for cultural and social activities. He also serves as the member coordinator of the new Central Asia and the Caucasus (CAC) Research Center at Maxwell School's Moynihan Center for Global Affairs to support academic and research initiatives of students.
Turdiev views the School of Education community as one of the most diverse populations on campus. "I have lots of friends with various cultural, educational, racial, religious, and gender backgrounds that enrich the culture of the SOE. It is an opportunity to feel welcomed and listened to."
"What is most valuable," he adds, is "the opportunity to collaborate with other more advanced doctoral students, in informal settings organized by student organizations like SOE Graduate Student Council. This enables me to learn and internalize their successes and learned lessons that are not usually available during the classes."
Ph.D. student D. Garmondyu Whorway G'19, echoes Turdiev's sentiment. "SOE means family," he says, "and I am happy to be a part of this family within a very inclusive and caring home."
As an ambassador and peer mentor to other international students, Whorway, from the west African country of Liberia, has spent his time at Syracuse facilitating meaningful connections between international students.
The School of Education's international peer mentor program matches each incoming international student with a current graduate student who assists with information about living in Syracuse, campus resources, and gives advice from their perspective of living and studying at Syracuse University as an international student.
"For me, I usually ask my mentees out for lunch at a restaurant that I notice might be familiar to the mentee country's cuisine," explains Whorway. "During lunch, I have found mentees to be impressed and felt free to ask many questions which they may not write out in an email or during a busy orientation." It's this personal connection that makes the program successful.
Speranza Migliore, School of Education assistant director of graduate admissions and recruitment and organizer of the peer mentor program, agrees.
"International peer mentors engage with the new international students even before their arrival to Syracuse to offer a friendly welcome to the School of Education and valuable guidance," Migliore notes.
Whorway came to Syracuse in 2016 to earn a master's in Instructional Design, Development, and Evaluation and is pursuing a Ph.D. in the same area.
During this time, he's worked with students with intellectual and developmental disabilities in the InclusiveU program and helped with seminars at the Taishoff Center. "As a mentor, working with students has been an opportunity to learn more than an accomplishment experience," Whorway says. "I did enjoy learning from students through amazing conversations about our societies and cultures. It was a unique opportunity to learn about American culture while I share my cultural experiences as well."
Through a graduate assistantship in School of Education Dean Joanna Masingila's offce, Whorway worked with 16 Fulbright Distinguished Teaching Award recipients from 13 different countries, assisting with logistics and providing information about university facilities. He also helped organize a SOE international festival to bring together the Fulbright cohort and current international students to showcase cultures through cuisine, arts, and music. "It was unique seeing our diversities embraced by the SOE community so much that we could proudly showcase who we are and get the overwhelming support we had," he says.
In the festival for the first time was Mirjakhon Turdiev, showcasing Uzbekistan's culture.
Whorway is passionate about giving back and hopes to bring what he's learned at Syracuse to low-income communities and underdeveloped regions around the world. "I want to dedicate my prospective research life as a professor or researcher to help teachers in those communities identify opportunities and strategies through training and professional development that will help close the technology integration gaps."
When asked to describe his experience in the School of Education, Whorway replies,
"In a word, I will say the SOE community is a home."