Casarae Gibson, assistant professor of African American literature and studies in the College of Arts and Sciences, has been named the first Lender Faculty Fellow by the Lender Center for Social Justice. The Lender Faculty Fellowship supports a two-year research project to critically and creatively explore contemporary social issues, develop innovative approaches to these problems, and implement useful and sustainable initiatives.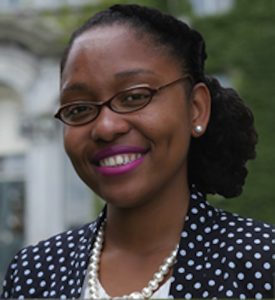 Gibson will lead a team of Lender Student Fellows focused on "The Social Justice #Hashtag Project: A Digital Humanities Study"—Gibson's project aimed at utilizing social media platforms as a way of uncovering social justice trends. The fellows will select hashtags exemplifying the social justice causes they are most interested in exploring and then develop innovative approaches to those social justice concerns.
"The ways in which we teach our students in the Information Age about social justice and how they must be equipped to challenge messages of inequality is vital," says Gibson. "This fellowship is an incredible opportunity to help students and the greater campus community understand the importance of advocacy in research as critical to advancing the mission of diversity and inclusion."
Center founders Marvin Lender '63 and Helaine (Gold) Lender '65 have devoted themselves to philanthropy and advocacy, and recognize that the issues and challenges of social justice will be ongoing. "Professor Gibson's focus on social media is a wonderful way to get the next generation involved in issues of social justice," says Helaine Lender.
"The spotlight on digital is a great opportunity for students to take things they are learning in the classroom out into the world and really engage these issues," adds Marvin Lender.
Gibson's two-year project will culminate with the 2021 Lender Symposium, with national guests and experts participating in a discussion of the research and proposals developed by the Lender Fellows team.
Gibson, who teaches in the Department of African American Studies, earned a bachelor's degree in English at Johnson C. Smith University and master's and doctoral degrees in English at Purdue University. Her forthcoming book manuscript, "There's a Riot Going On! Racial Unrest in Black Arts Movement Poetry, Drama, and Fiction," examines how artists used aesthetics to challenge racial inequalities at the height of the civil rights movement.
About the Lender Center
The Lender Center for Social Justice was established in September 2018 and is managed and housed in the School of Education. The center will be host to activities and programming, including multidisciplinary conversations related to issues of social justice and collaborations with other University units to promote a robust dialogue about issues of justice, equity and inclusion.